The latest Eco-friendly products
Posted in Nourishment for the Spirit » Be Green on Friday, January 14, 2011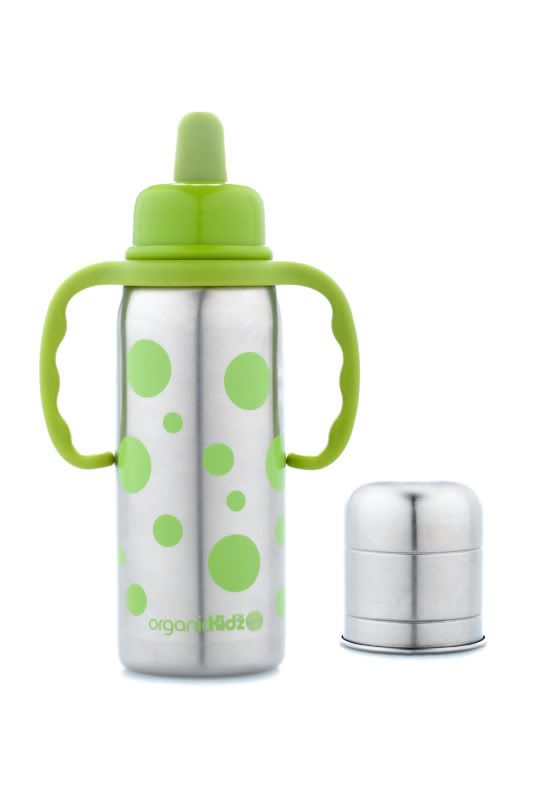 The Safer, Greener Baby Bottles -made of all natural elements -convertible to Sippy Cup/Water Bottle

World's First Stainless Steel Baby Bottles by organicKidz™! These award winning bottles are free of BPA, PVC and Phthalates that can leach from plastic and won't shatter like glass bottles. They're easy to hold, hard to damage, light weight and dishwasher safe. Unlike plastic and glass bottles, organicKidz™ bottles are Naturally Bacteria Resistant and convert to Sippy Cups and Water Bottles. As organicKidz™ bottles are made of Stainless Steel, they are 100% recyclable and can be used for all your children. Bottles come in a variety of sizes, styles and cool designs! 9oz specialty bottles are vacuum insulated to keep liquids hot or cold for 6+hours, making outings and travel so much easier! Thermal food containers coming in March. Containers will coordinate with our bottles, making them the coolest thing in your lunch bag! organicKidz recently became a Trusted Partner of Healthy Child Healthy World! organicKidz™ - the Safer, Greener Choice MSRP $14.99-$24.99


Visit www.organicKidz.ca and visit http://www.chicexecsmedia.com for samples or for a feature!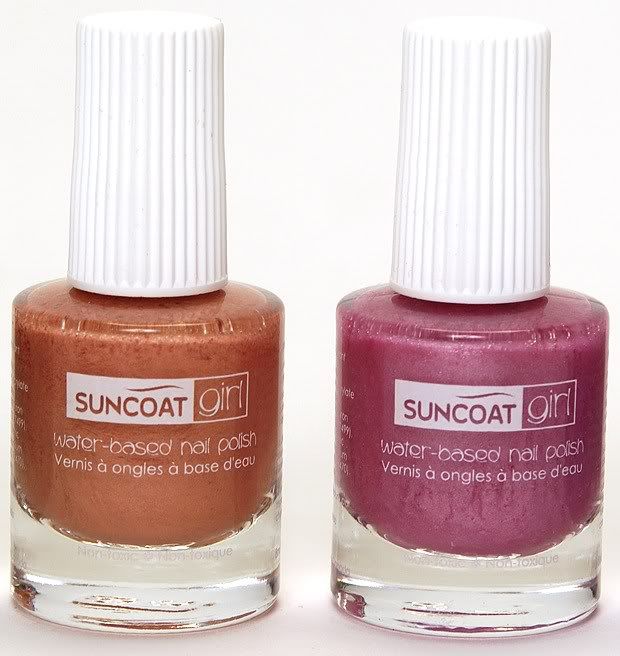 Eco-Friendly Nail Polish by Suncoat products Inc!!

Water-based natural nail polish by Suncoat products Inc., a Canadian research and manufacturing company. Water replaces chemical solvents, a revolutionary product! Our water-based nail polish nail polish releases water vapor when applied, not chemical fumes. Virtually odor free. No toluene, formaldehyde, phthalate, and most of all, no acetates.Colored with mineral based colorants and carmine. Free of synthetic FD&C dyes. Suncoat also offers corn & soya based Natural Nail Polish Remover. Other products we have are natural hair styling aids, mineral based cosmetics etc.

Price: $9.99

Visit www.suncoatproducts.com and visit http://www.chicexecsmedia.com for samples or for a feature!
ECOzip! Changing the Way America Packs Lunch!

Whether it's packing your kids lunch in the morning, snacks to munch on after an intense workout, prepping dinners, storing leftovers or packing toiletries and make-up for travel, ECOzip is versatile and convenient while still being kind to the earth. ECOzip is a revolutionary multi-compartment storage bag that allows you to separate and organize multiple items all in 1 bag. Just Zip and Flip it! It's 2 in 1 technology allows you to use the bag as a split bag where you get to separate and compartmentalize or by opening its middle zip use the entire bag.

Price: $3.99

Visit www.ecozip-bags.com and visit http://www.chicexecsmedia.com for samples or for a feature!
La Chamba Clay Cookware – Eco-Friendly Cooking with Flare!

Rediscover what our ancestors knew: the simple pleasure of cooking with pots made of clay. Claypot cooking heats your food evenly while keeping it moist. One of the most elegant types of clay pots is known as La Chamba. This black, all-natural pottery comes from the Colombian village of the same name and has been made by artisans there for generations. Each piece is crafted by hand with local clay, burnished with smooth stones (no glazes!) and fired in small wood-burning ovens. This complex process—along with the natural materials—give La Chamba dishes a beautifully distinctive and authentic look. The mica in the local clay allows the cookware to withstand the rigors of modern kitchens—it is stovetop, microwave and oven-safe. Toque Blanche imports this eco-friendly pottery from Colombia and offers over 40 different styles of cookware, serveware and dinnerware. Great for the cook who wants to prepare and serve marvelous food with flare!

Visit www.MyToque.com and visit http://www.chicexecsmedia.com for samples or for a feature!
belle et bonne jewelry Goes Green!

belle et bonne has designed a fashion forward, eco-friendly jewelry line made from 100% recycled sterling silver that supports nature! Our "Tree of Life" medallion necklace was created by belle et bonne jewelry designer, Hilary Barbour to help The Nature Conservancy continue it's conservation efforts worldwide. These pieces can be layered with other silver necklaces to get the stylish layered look or worn alone depending personal preference. Great for gift giving!

Price: $99.00

Visit www.bellebonne.com and visit http://www.chicexecsmedia.com for samples or for a feature!